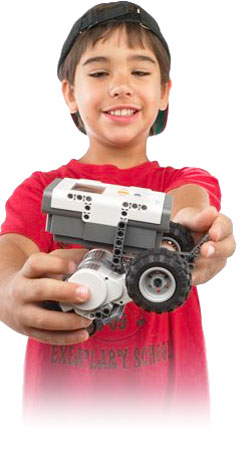 Participate
WHAT IS THE ECOBOT CHALLENGE?
Using autonomous robotics and computer technology, Ecobot teams solve challenges in energy exploration, transportation, technological innovation, medical research and environmental sustainability. In addition to sharpening their knowledge of mathematics and physics, Ecobot participants learn valuable life lessons in teamwork, time management, presentation planning and marketing. Interaction with professionals from a variety of related fields also helps participants to connect school to career and envision a future that employs their unique talents.
An innovative engineering competition that engages 5th through 8th grade students in complex problem-solving and introduces advanced physics and math concepts through creative learning
Students build and program robots while formulating solutions to real-world missions, demonstrateing the relevance and applicability of science, technology, engineering and math (STEM) subjects
Trains the workforce of tomorrow in teamwork, negotiations, time management, presentation skills and working successfully under pressure.
HOW CAN YOU BE ACTIVE?
HOW DO WE GET STARTED?
Grab a group of friends and a coach! Teams are comprised of 4 students in grades 5th - 8th and can be any mixture of girls/boys, grade levels, or school/organization! Teams can be sponsored by schools (public/private/faith-based), religious organizations, scout troops, boys/girls clubs, or any community/professional organizations. Coaches are any adult (teachers, parents, community leaders, professionals, etc.) willing to learn, mentor students, and attend the May 16th Challenge Day at Reliant Center.
Prepare to make your Ecobot Store purchases using our Budget Guide to understand the associated expenses.
Register and attend Build-It Days and Practice Days to learn about robotics and the 2014 Challenge Day Missions.Participants, their parents, and teachers/coaches are invited and requested to attend these trainings! Plus, they are FREE of charge! See the dates and registrations on our home page.
Register to participate in the All-Earth Ecobot Challenge on May 16, 2015 at Reliant Center, Hall E. Registration opens in Spring 2015.